Volunteer for Red Squirrel Conservation
Did you know how much the red squirrel population is outnumbered by the grey squirrel?
Red squirrels have been in the UK for 10,000. Back in 1876, the grey squirrel was introduced from North America.
The grey squirrel is larger than the red squirrel and more robust. They digest seeds more easily. And they also transmit the squirrelpox virus which infects red squirrels and causes them to die of starvation or dehydration.
The grey squirrel population has now risen to about 3 million. The red squirrels number 140,000 in the UK, of which 75% are in Scotland.
The key to the survival of the red squirrel is to be kept apart from the greys so that they have a chance of surviving.
There are a number of groups around the UK helping the red squirrel population to grow and thrive. And they need volunteers.



Subscribe to Trees for Life You Tube videos
Red squirrels need you!
The Red Squirrel Survival Trust is a national charity established to conserve and protect the red squirrel in the UK. There are lots of ways you can get involved, such as buying something from their online shop, and volunteering. Volunteers undertake activities such as:
Monitoring activity of both red and grey squirrel
Community engagement, administration, education and fund-raising
Data collection for scientific research projects
Grey squirrel control
Establishing new red squirrel colonies in suitable areas
Red Squirrels Northern England (RSNE) is a red squirrel conservation partnership based mainly in Cumbria, Northumberland, Merseyside, Lancashire, North-west Durham, Tyne & Wear and the Yorkshire Dales, in areas where wild red squirrels can still be found. They've got an app so that you can record your sightings there of both red and grey squirrels. And you can Become a Friend of the Red Squirrel, starting from about £24 a year - it's a crucial way to give RSNE support so that they can help red squirrels.
The Lancashire, Manchester and Merseyside Wildlife Trust are also involved in red squirrel conservation and you can record your sightings to them, too.
The Red Squirrels Trust Wales is firmly committed to dramatically reducing grey squirrel populations in Wales and it wants to protect native species and forests which are threatened by the grey squirrel. They have a petition calling for the funding of vaccine research to protect red squirrels from deadly Squirrelpox virus and you can record your red squirrel sightings here. They have some videos of red squirrels here.
The Ulster Wildlife Trust has a Red Squirrel Conservation Strategy for 2022 to 2032 and they have local red squirrel groups so that you can find your local red squirrel group here. It also shows how you can help red squirrels in your garden. You can also record your sightings of red squirrels here.
Red Squirrel Conservation in Scotland
With Scotland being home to 75% of the red squirrel population in the UK, there's a website for everyone there at Saving Scotland's Red Squirrels.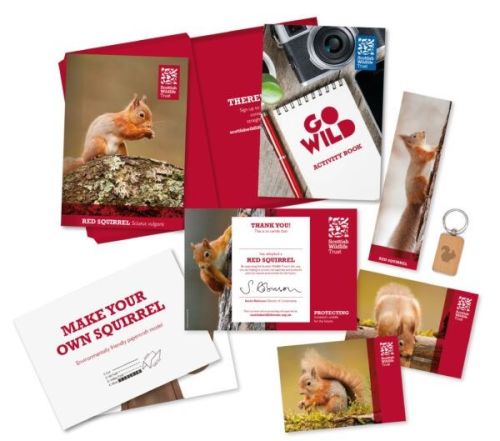 Why not adopt a red squirrel from the Scottish Wildlife Trust to help protect this special species?


Ways to help red squirrels in Scotland include:
Recording a squirrel sighting
Making a donation
Adopting a red squirrel
Joining in the spring survey
Joining their trap loan scheme
You could also visit Trees for Life Red Squirrel Reintroduction Project by which the charity Trees for Life are hoping to reintroduce red squirrels into new forests. So far ten new populations of red squirrels have been created - they are free from the threat of greys. There's been successful breeding of frequent sightings of young squirrels. A number of 'satellite populations' from squirrels colonising new forests up to 16 km away from the original release sites have been created, too, and there's more work to do! Find out more here