Can you help the adder?
For all those of you who are into British wildlife, here's a chance to get active & involved with a project to build up our knowledge of adders.


If you want to find out more about adders, you could start by taking a look at the ARC Trust. They have lots of info, including facts and advice on adder bites Their page on snakes shows you the different types of snakes in the UK - the adder, the grass snake and the smooth snake. They've got a poster showing the difference between these snakes which you can download here. There's also advice on what to do if you find a snake in your garden and what to do if you find a non-native snake, who has very likely escaped from a human owner. There's also details on how to help snakes in your garden
Do please record your sightings in the wild and in your garden - it really helps conservation charities build up a picture of what animals are where, and who needs help.
Theres the National Amphibian and Reptile Monitoring Programme has surveys and projects you can get involved with (more info here) and they include Snakes in the Heather.
For experienced snake spotters, there's Make an Adder Count which is a project being run by Amphibian & Reptile Conservation (ARC). They are looking to collect information about adders acrossritiain, and to build up a picture of where adders are today and where they have been in the past, so that they can build up a history of the adder. They're after observations & anecdotes which will help them build up such a picture - memories in the minds of the British public of adders they've seen. They are particularly interested in observations & memories over 50 years old, although any such recaps would be useful if younger than that. ARC are asking people across Britain to tell them where you've seen adders or where other people have told you of sightings.



Don't get too close to adders!

ARC point out that if you see adders in the wild, remember not to approach them too closely for your own sake, and that of the adder. They remind us that adders are venomous, and a bite can be very unpleasant (even fatal) and will demand immediate medical attention. Adders are protected by law and prone to disturbance, so you need to keep a sensible distance between you & them.

Get involved with adders (and snakes) in your area

If you're interested in volunteering for the amphibians & reptiles of Britain, then you can find your local ARG UK group here. There are ARC groups around the UK.

ARG UK is also keen to hear about snakes in your garden - please see more information here on how your sighting of a snake slithering through your garden can help. Grass snakes, adders, slow-worms - please let ARG UK know about it!

Froglife have an app you can download and use to identify reptiles you see when you're out and about and you can record sightings there.

Who are ARG UK?

The Amphibian & Reptile Conservation Trust is a national charity, registered 1130188. It is committed to conserving amphibians & reptiles and saving the disappearing habitats on which they depend. Their vision sees these animals thriving in their natural habitat and a society committed to their conseration.


Sponsor a snake with Froglife
£10.00
You could also sponsor a newt,
a toad, a lizard, or a pond!
Find out more from Froglife


Froglife also have a
Reserve Warden for a Day
for £100.00.
Find out more here
Images © Froglife


Why not sponsor an adder with the ARC Trust?
Image ©ARC Trust
So what does ARC do?
It leads action plans to help reverse declines in reptiles & amphibians, playing a key role to save important habitats like wetlands & heathlands

It understands the threats these species face - roads, disease, pollution, loss of habitat, climate change, for instance - and its scientists look for solutions to these threats & identifies the priorites

It protects wild places, managing over 80 reserves in Dorset, Hampshire, Surrey, Cumbria and Norfolk.

Its staff provide targeted advice & training for farmers & land owners, managers & consultants, as well as giving advice to the public through its wildlife information service. And it works closely with children, teachers & community groups to ensure that young people can get involved in action for amphibians & reptiles.

In the UK, Overseas Territories and Europe, it works to ensure that new legislation & policy decisions fit the needs of wildlife, especially amphibians & reptiles. It seeks to voice the needs of these creatures, working to influence policies surrounding agriculture, habitat conservation, wise water-use & planning

It encourages the public to conserve reptiles & amphibians - why not become an ARC Friend and help ARC give a voice to frogs, newts, toats, snakes & lizards, for just £15 a year
In Spotlight Snakes, Jules Howard takes us through the ecology and lifestyle of Britain's three native snake species: the barred grass snake, the smooth snake and our only venomous snake species, the adder.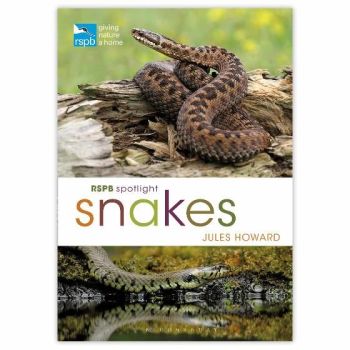 Discover all about their unique hunting styles, their courtship rituals - and the challenges our snakes face. He also looks at the solutions conservationists are using to help them and ensure their future. It's avaiable from the RSPB Shop for £12.99