Animal Photography
When our much loved family cat died, one of our biggest regrets as a family was that we didn't have enough photos of him. Finding any picture of Mickey from then on was like striking gold - we cherished every one. With Trouble, things changed. I took tons of photos of him, even if it was just half of his head when he moved; and I also got into the habit of trying to draw him. Hopeless as I'd been at art at school (always bottom of the class), I was surprised at the pleasure trying to draw my cat gave me. After about 100 drawings, they even started to look a bit like him. Taking photos of your pet or drawing him can be a lovely way to gather a sort of story of his life.
Taking photos of your pet
Animals can be very difficult to photograph or draw because "keep still" never seems to register. However, those wonderful people at Photobox have some great tips for those of you who want to take photos of your pets or animals.
Energetic pets


If your pet's a fast mover, you'll know that you have to snap fast. Take lots of pictures - & delete those you don't need later. A zoom lens will help give you flexibility when your pet is running around. Photobox suggest that using a fast shutter speed, or action mode, is a good idea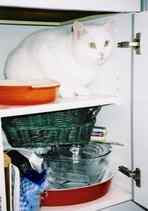 Take pictures of your pet doing unusual things

Get down!


That means you not your animal! It's the same for photographing kids: Photobox recommend that you to get down to the animal's level level to achieve the most interesting shots. You can even vary the angle by looking down onto your pet, & encouraging them to look up; or you can lie on the floor & take photos of your pet looking up at them. Many of your best shots are likely to be those at their eye level, where you're really interacting with them
Forget the flash


Using flash often results in red-eye. With pet pictures you can also end up with yellow or green-eye which doesn't look good either. Yes, you can edit it out - but using flash is likely to unsettle and even frighten an animal. It certainly won't help with future photo sessions - one sight of the camera and they'll disappear as fast as you can say "vet". Go for good natural daylight instead
Try bribery!!

Out and out bribery may well work, using their favourite treats or a game. Hold the treat or toy up in the direction you want your pet to look in, or get someone else to hold it up. This usually does the trick.

Get close up


To capture a close-up of an animal,

without having to actually get too close, use a zoom lens. For small creatures in close proximity, Photobox suggests that a macro lens will be your best option for capturing superb detail
.
Create a little photo album of your pet


Create a fun photo story adventure, with your pet as the star, of course, can be a great way to keep a lasting memory of your dog, cat, horse, rabbit or whatever. starring your pet, with our PhotoBooks or StyleBooks - something the kids will adore. Or make a this-is-your-life type book, showing them grow from kitten to cat etc. A good variety of sleeping, playing and feeding shots will help capture their personality. Photographing any funny habits, or something they shouldn't be doing, will add a comedy factor too!
For the Kids
Why not have them create a photobook of their pets? This could be a terrific thing to do over the summer holidays, especially on those days when it is raining. You could either do a photobook, or use a scrapbook, whatever suits - but this is a great way for the children to keep a record of their pet & really celebrate the fact he or she is part of the family.