Volunteer to be a Toad Patroller
Posted on
Did you see Hugh Fearnley-Whittingstall's programme on BBC2 on Saturday afternoon?
It featured a number of exciting wildlife projects, and among them were a group of volunteers who go on Toad Patrol.
In short, volunteers on Toad Patrol help toads cross busy roads safely.
Common toads have very special wants when it comes to choosing where they breed. They often go back to their ancestral breeding ponds every year. And they cross the same route – which can lead them across roads.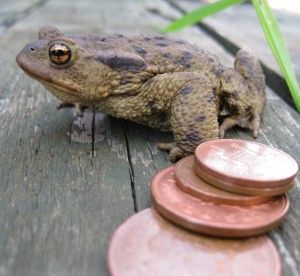 Have you thought of volunteering for a toad patrol?
image copyright to Froglife.org

Of course, they are crossing the roads as cars and lorries are passing through them. There's no need to tell you who comes off worst.
Enter the Toads on Roads project.
It registers these sites as migratory crossings and it also helps organise local toad patrols.
A patrol can apply to local councils for road warning signs to be put up and help toads cross.
Toads on Patrol has now been going for 20 years and there are many crossings around the nation.
How would you like to volunteer to join a Toad Patrol?
You can volunteer as much or as little as you want – but you need to be committed and enthusiastic, and willing to turn out in the evenings in wet weather. Migration can run from as early as January to as late as April so you're going out in the dark in wet and cold weather for much of the time


That said, this is a great opportunity to:
Help toads
Meet like minded people who want to make a difference
Do something different with your evenings
If you'd rather be inside in the warm, you could always donate to support Toads on Patrol.
Find the Toads on Patrol nearest to you.
Find out about becoming a Toad Patroller – and there's an information pack here.

Be a Reserve Warden for the Day Experience, available from Froglife.org