Animals in War on D-Day - visit the Animals in War Memorial in Hyde Park, London.
Posted on
I'm putting a more sombre touch to this website today to give some time and thought to all the animals and peoplel who have been killed or injured by war.
If you're in London, one thing you could visit is the Animals in War Memorial at Brook Gate, Park Lane, (map here) on the edge of Hyde Park. It's on the edge of Hyde Park .
The Animals in War Memorial was created to remember and pay tribute to all the animals who've served with our Forces in the wars and conflicts of the 20th century. They served, suffered and died alongside British, Commonwealth and Allied forces and deserve to be remembered.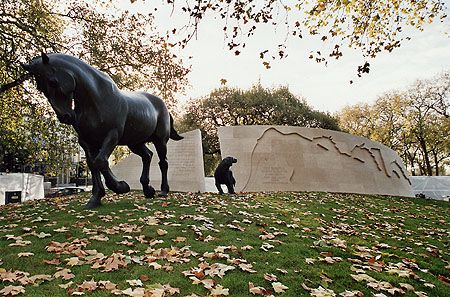 Horses, mules, donkeys, dogs, pigeons, cats, elephants, oxen, bullocks, canaries and even glow worms served in the wars.
They had no choice.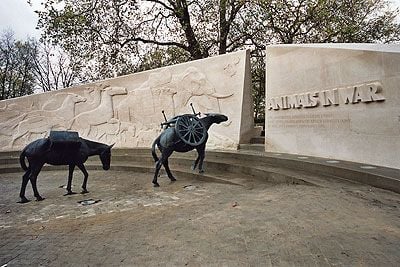 The Animals in War memorial is a beautiful tribute to them, but if only the wars had never happened, so much suffering and death could have been avoided for millions of animals and people.

Today on D-Day, let us remember them.


Visit the Animals in War Memorial's website to find out more here


For charities helping animals affected by war, please go to AnimalsCharities.co.uk