Caring for rabbits in cold weather
Posted on
Looking through the newsletter from the NAWT (the National Animal Welfare Trust), it had a very helpful cut out and keep guide to rabbit winter care.
The NAWT operates 6 re-homing centres across the south of England in Berkshire, Bedfordshire, Cornwall, Essex, Hertfordshire and Somerset. As well as cats, dogs, birds and field animals, they also have rabbits and guinea pigs looking for homes.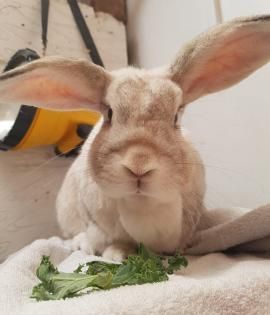 At the time of writing this,
Snowy was looking for a new home
Look at the rabbits and guinea pigs wanting a home here
I hope they won't mind but I've put some of their tips on winter bunny care which featured in the newsletter here:
Watch the weather – make sure you've got blankets at the ready to safely cover the hutch if we have another cold snap
Check the inside of the hutch for signs of leaks
Move the hutch so a sheltered position where there's protection from the elements
Keep it off the ground to stop damp and cold
Make sure it's the winter run is secure – foxes get hungrier in winter
Line the bottom of the hutch with blankets or newspapers in cold spells – you could even use a rabbit-safe heat pad for the colder times
Check bedding for damp patches so that the hutch stays dry
Watch your rabbit's water bottles – they can freeze in cold weather. Keep spares at the ready just in case.
Ask your vet if your bunny needs bigger portions in the winter months.
If you get a chance, do hop off to visit the NAWT's website.
There's lots of helpful information there and also details on what to do if you or you & your company want to volunteer!
What's more, they've got some very helpful advice for young people who want to do something to help and really volunteer, which is great - there's lots of things that young people can do.
They have some great products in their shop, including those fabulous cards from the Little Dog Laughed range – I love those, they are so clever.
And if you're looking for meaningful gifts for an animal lover, they have Animal Sponsorships – you can sponsor an animal for a year, feed an animal for a year and provide animal training and enrichment training for a year.