Volunteer for Cats
Posted on
A few years ago, I volunteered for Cats Protection.
It was a wonderful thing to do and I loved it. The cats were appreciative, so were the staff. Yes, there were times when I came away and shed a tear; but I used to tell myself that the cats needed practical help, not my tears. Tears don't change anything, I'd say to myself; practical help will.
There are many different ways you can get involved and make a difference to cats and kittens all over the UK.
Cats Protection is the UK's largest cat charity. They help about 200,000 cats and kittens every year, thanks in part to a network of over 250 volunteer-run branches and 32 adoption centres. And there are also charity shops, too. There are about 10,000 volunteers across the UK - that's a lot of cat lovers!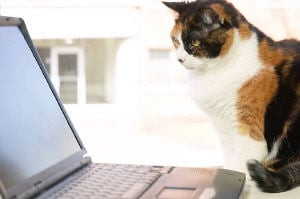 Volunteering is a great way to make new friends who also care about cats...


Click here to pounce on volunteer opportunities with Cats Protection
They include:
Cat care and welfare - hands-on roles with cats
Committee members - leading and managing roles
Education - inspire & educate
Fundraising - raise money for cats
General admin and support
Publicity & Communication - spread the word for cats
Retail - a role in a charity shop
Volunteer management
So there's lots to do!
If you're looking to do volunteering for your Duke of Edinburgh Award, click here