Assistance dogs help people
Read Pure Gold, the story of the amazing assistance dog, Endal

In the Sussex countryside, charity Canine Partners trains assistance dogs to partner people with disabilities. The charity's mission is:

"to assist people with disabilities to enjoy a greater independence and a better quality of life and, where possible, to help them into education and employment, through the provision of specially trained dogs, whose well-being is a key consideration."
It's a wonderful example of how animals and people help and care for each other – the animal-human bond is really at its strongest. Here are two recipients of canine partners to tell you what a difference a dog makes. Canine Partners are trained by the charity to obey around 100 commands, from loading and unloading washing to carrying out emergency procedures.
Liz Potts is partnered by Wesley.

Liz has Spina Biffida Occulta and Hydrocephalus. "In a few short years, I went from being an active mum of two small children, to staggering around, frequently falling over and only being able to walk short distances indoors with walking sticks," Liz explains. Over time, she endured three operations, the third of which left her partially paralysed, with not much use or sensation from her stomach down to her toes.

If that wasn't enough, Liz was also told that she has a Chiari Malformation: her brain protrudes through the base of the scull and presses on the brainstem. This can cause weakness in the arms, hands, difficulties in swallowing, disturbed balance, visual problems and breathing difficulties. Liz explains the story of her meeting with her Canine Partner, Wesley and he has clearly made a huge difference to her life.
"When I first met Wesley, he was introduced to me as the horse; he is a very large beautiful and gentle golden retriever. For me it was love at first sight!

Liz & Wesley
"We successfully completed the training programme and came home mid July 2006. Wesley has transformed my life by giving me greater independence. I no longer have to keep saying "will you, could you, would you, should you, pass me, get me, reach me, pick up" etc because Wesie does it. He picks things up, gets things off shelves, pulls off socks and is a whizz at laundry - he can halve the time it would take me to empty the washer or tumble dryer!

"This new-found independence gives my family more free time; it allows my husband to feel that he can close the door when he goes out to work and leave me in the capable gentle paws of my canine partner
"Wesley has also given me a new sense of freedom when we go on daily walks and he has become a familiar sight within my local town of Congleton, helping me shop. I have also met and talked to people who maybe wouldn't have approached me before, thus he has helped break down barriers that disability very often brings. "I only wish I had applied to Canine Partner sooner; I wouldn't be without my Wezie!"

Claire Graham is partnered by Ulli.

Claire fell very ill one day and found herself in hospital with a virus called Transverse Myelitis. In the years immediately following that, she says, "I slowly began to lost my confidence to go out to new places; I didn't know anyone, my self esteem was low and I was quite happy sitting doing nothing going nowhere. I had changed form being an outgoing person to a recluse."

Claire found out about the charity because she met Wendy Ireland and her Canine Partner, Indi. "I applied to the charity and went through the training, and came home with Ulli!" Claire explained.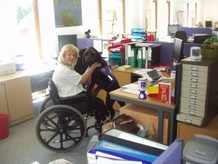 "Ulli and I have been together just over a year, and wow what a year," Claire says. "When we first came home, we were both very shy and scared, but our confidence has grown together, and we have become a real team. We have flown up to Glasgow on our own, and after many years I've had the confidence to get back on a horse with the Riding for the Disabled Association.

"My husband doesn't phone home first now; he calls the mobile to see where Ulli and I are. We're normally out doing everyday things and meeting people. Ulli and I are a team; we have a passion for life, and trust each other every step of the way – and this is only the beginning!
Canine Partners has an enthusiastic and dedicated group of volunteers who assist with the training. Find out how you can help or to discover more about applying for a dog
All photos on this page are courtesy of Canine Partners.