Vet programmes on the TV this week....Mountain Vets and The Supervet!
Posted on
It's a busy week for vets on the television! Let me explain…
Mountain Vets
This week, on Tuesday 19th July 2022 on BBC2 at 8pm, Mountain Vets returns for a new series. It follows the work of the very busy mountain vets in Northern Ireland, in the Kingdom of Mourne. In the first of this new series, dogs, a pet lizard and swans need help from vets and a local wildlife officer. The next programme in the 6 part series is on Wednesday 20th July, also at 8pm. Visit BBC2 to see the programme's website
The Supervet: Noel Fitzpatrick
The Supervet Noel Fitzpatrick is back for a new series on Thursday 21st July 2022 at 8pm on Channel 4! Incredibly, this is the 17th series and the programme is still going strong. This week the programme includes a feisty little kitten…. Visit Channel 4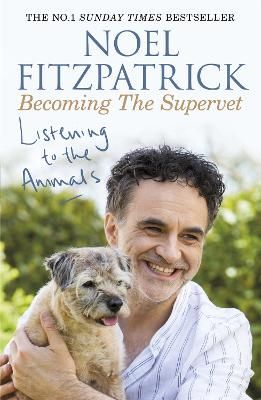 Noel Fitzpaptrick's Becoming the Supervet
is available from Foyles
This is a chance to highlight veterinary charities such as
The WVS works worldwide to ensure that no animal goes uncared for. Last year, they treated over 56,000 animals, trained more than 950 vets, raising the standard of care, and they sent 94 aid parcels a month. They mobilise dedicated vets on the ground. You can donate money and medication, fundraise, become an individual member or a veterinary practice member. You can also pair your pet with another animal to help them. You can pair a pet in memory of your pet, too. You can also volunteer, if you're a vet or a vet nurse or passionate about animal welfare! Find out more about WVS
SNIP International

SNIP International is dedicated to improving animal welfare standards worldwide. It promotes trap, neuter, return programmes in stray and feral animals. It has donated specialist catching, trapping and holding equipment to over 500 animal welfare groups in over 80 countries
PDSA

PDSA is a charity. Vets in their 48 pet hospitals care for sick and injured pets every day, helping to save lives and keep them well and happy. They are also a leading authority on pet health. You need to meet the criteria to receive veterinary treatment for your pet.
StreetVet delivers free essential veterinary care and services to the pets of people experiencing homeless in many locations around the UK. StreetVet team take their experience out onto the streets of ever expanding locations, seeking out people; their dogs living rough, and delivering care and support required to ensure their combined wellbeing. You can find ways to donate and help here
VetLife

VetLife is a charity which offers independent, confidential and free help for everyone in the veterinary community e.g. veterinary nurses, students, non-clinical staff. In 2021, they responded to 3,390 enquiries. The website has information on self-care and signs you may be struggling to cope.