BBC2 Natural World Giraffes: Africa's Gentle Giants on BBC2 on Saturday 18 September 2021
Posted on
Don't miss: BBC2 on Saturday 18 September 2021 at 8:00pm.
Natural World are focusing on giraffes, and in particular the work of conservationist Dr Julian Fennessy who aims to round up 20 giraffes – the world's rarest – and take them across the huge Nile River.
The programme is from 2016-2017 but is well worth a watch, and the BBC has clips you can see on their website.
Dr Fennessy is the Co-Director and Co-Founder of the Giraffe Conservation Foundation. The charity say that giraffe numbers have declined by almost 30% in just over 30 years; there are now about 117,000 in the wild
The Foundation includes 19 people from 16 countries and 4 continents, all striving to help secure the giraffe a future.
And it has a new initiative to increase giraffe field conservation and management actions right across Africa! It's called the Giraffe Action Fund and it identifies and supports field conservation campaigns and actions which protect and promote giraffe conservation.
For example, it helps action to
Increase giraffe numbers, distribution and habitat

Tackle anti-poaching

Help with conservation education and awareness to safe giraffe and minimise the largest threats
And on social media, you can #StandTallforGiraffe
You can also donate to the Giraffe Conservation Foundation, adopt a giraffe (perhaps as a gift to yourself or a giraffe lover) or shop at their online shop, to help the Foundation continue their work.
Visit the Giraffe Conservation Foundation's website here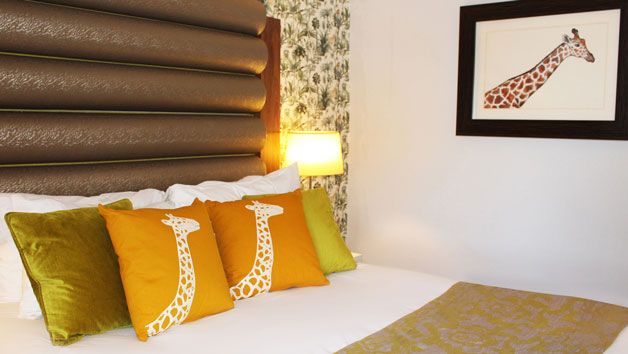 Edinburgh Zoo Entry and One Night Stay in a Giraffe Suite for Two at Hotel Indigo Edinburgh, available from Red Letter Days
Get 15% off with the code AHW2021RED, valid until 31 Dec 2021