Enjoy 15% off at BuyaGift.co.uk until 1 April 2020
Posted on
There's a great offer from BuyaGift.co.uk for all you animal lovers!
They've got a 15% off offer for visitors from GetActivewithAnimals.com – valid until 1 April 2020!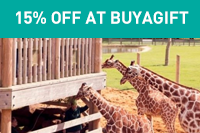 Use the code AHW2020 to get your 15% off
The code is valid until 1 April 2020
They've got some great animal experiences, many giving you the chance to get close up and personal with all creatures great and small, from majestic big cats to penguins, pigs and reptiles to horses and alpacas.
There's something for every budget too so you are bound to find something to suit the animal lover in your life and your budget.
You can get experiences at venues such as Bristol Zoo Gardens, London Zoo, Whisnade Zoo, Drusillas Zoo Park and Paradise Wildlife Park and Linton Zoo.
There are over 30 Birds of Prey and Falconry experiences, and you could also meet a meerkat with a meerkat encounter or tickle a tapir!
To get your 15% off, all you need to do is to use the code AHW2020 by 1 April 2020. It applies site wide, so all special offers and 2 for 1s are included in this offer!