Springwatch is back on BBC2 from Monday 28 May 2019 at 7:30PM :-)
Posted on
Good news!
Springwatch is back on the BBC from the Cairngorms in Scotland. The show has some amazing footage and lots of interesting information about wildlife and their website is incredible - you'll find plenty to look at and discover about wildlife. There's a great many ideas on ways you can help wildlife in your garden, too!
For instance you can SAY NO TO THE MOW and let your lawn grow a bit untidy, especially around the edges. Be a lazy gardener and that way you'll be able to give wildlife a hand.
(I'd say too get rid of decking, hot tubs, artificial lawns, concrete as well.)
I have a rule in my garden: I only plant things wildlife will like and want. So if it's wildlife friendly, it goes in. If it isn't, I don't bother buying it.

In Episode 2, Kate Bradbury turns her garden into a wildlife haven and you can see the results here.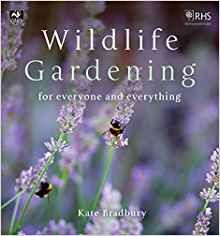 Wildlife Gardening: for Everyone and Everything
by Kate Bradbury
from Amazon


We need to give space back to nature and create a welcoming habitat for it to survive and thrive in. Turn your garden over to soil, ponds, hedges not wooden fences, pollinator friendly flowers, trees and bushes and shrubs. Let the grass grow and let the kids discover what thrives in it.
Join Springwatch's Citizen Science project and help them build up data about wildlife in gardens, however big or small your garden is - it doesn't matter. What does matter is that we all take part.
One lady the presenters met is dedicated to helping snails. She came up with a wonderful saying:
Saving the planet is not that hard,
You just have to start in your own back yard.
How true!
There's information about the show itself here - e.g. times and dates -
Plus there are some fabulous Galleries here
Hop off to Springwatch now and join the conversation #Springwatch