Take your horse on holiday with you! Some tips!
Posted on
Lots of people take their dogs on holiday with them, but what about taking your horse?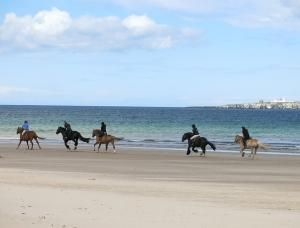 Those fabulous people at Viovet.co.uk have lots of tips for you if you want to take your horse on holiday - and here are a few ideas....
You do need to be prepared in advance of going and think about your horse and whether it would be the right thing to do with them.... Some horses will love it, others would prefer to stay at home.
Think about the capabilities of you and your horse..... it's one thing to do a day's ride at home, but what about doing it day after day for a week or so? Will you & your horse be up to such a trek?


Make a very thorough check-list of what you need to take with you for your horse. Be well prepared and allow for delays so that if you end up having to take longer en route and/or getting home, you've got enough stuff to see you through. VioVet stocks a great range of equine calming supplements, including Confidence EQ – a pheromone-based gel for horses susceptible to stress.


Think about safety - daylight hours maybe shorter or longer where you're going - will you & your horse be properly illuminated?


Make sure you know where you're going - both on the way to the holiday itself and while you're riding out. Check the weather conditions before you go to make sure you don't suddenly find yourself in the middle of a tremendous downpour or a mist.


If you're going to be out for most of the day, take a saddle bag with essential supplies. Don't forget to charge your mobile phone. Make sure you've got provisions for your horse - such as electrolytes and water, and maybe even a change of clothes. If you do happen to ride into serious difficulty, call 112 for emergency help.
Check your horse's shoes before you go and make sure you go and find out where the nearest vet is before you go. Check your tack too - is it all in good order?
Viovet have lots of helpful blogs for pet owners including horse owners - visit their blog here and their online store here.