New arrival at ZSL London Zoo - Meet Asim!
Posted on
There's a new arrival at ZSL London Zoo.
Sumatran Tiger Asim came to the UK from Denmark in true tiger fashion. He's come as a mate for resident female tiger, Melati.
Asim had warm straw, snacks and drinks and a climate control. His new keepers had visited him in Denmark to meet him and get to know him. They discovered that he loves to play, loves to play, especially by pouncing on piles of empty boxes sprayed with strong scents such as herbs and spices.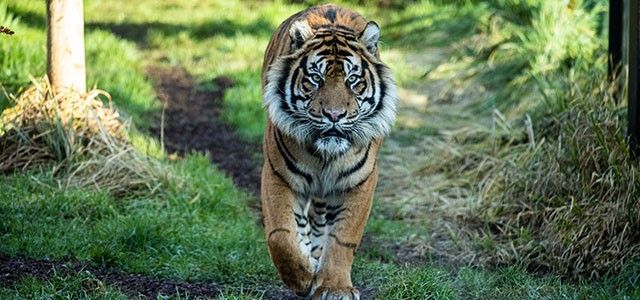 So how is the romance going?
At the moment, Asim and Melati can smell and see each other from separate paddocks because Asim needs to settle into his new surroundings before he formerly meets Melati. However, there are good signs - the keepers have seen lots of chuffing, a happy sound tigers to make to let each other know they've got good intentions, so this is a promising start.

Asim was matched with Melati through the European Endangered Species Programme (EEP) for Sumatran tigers, which is coordinated by ZSL London Zoo's experts. It aims to save the species from extinction.