Get active for wildlife with the RSPB Big Garden Birdwatch....27 - 29 January 2018
Posted on
Join the world's largest Big Garden Birdwatch organised by the RSPB at the end of January 2018 and help nature simply by watching the birds in your garden or local park for an hour and recording your results!
This birdwatch has taken place since 1979 and it gives the RSPB an invaluable insight into how the nation's birds are faring. Which are more numerous, which species are struggling and need more help?
In 2017, over 500,000 people recorded over 8 million birds in their gardens and local parks. They sent their results into the RSPB where they are carefully recorded and checked. You can find out more about how the results are dealt with here.
Here's how to get involved in the Big Garden Birdwatch
On the weekend of 27-29 January 2018:
Choose your spot from which to watch birds for an hour - you could watch them in your garden or local park
Sit down, chill and relax with a nice hot drink if you want as you watch the birds!
Count the maximum number of each species you see at any one time. The RSPB have a How to Identify Birds guide
Go to the Big Garden Birdwatch website

and tell the RSPB what you've seen. Or use a

paper form

. It's FREE to post back to them.
There's more information here and answers to any questions you may have.
Request your FREE pack now and get your 20% discount and free P&P at their online shop




Click here to fly away for more information
Big Garden Birdwatch 2017 Results.... drum roll please!
So which species were the most popular?
House Sparrow
Starling
Blackbird
Blue tit
Woodpigeon
Goldfinch
Robin
Great tit
Chaffinch
Long tailed tit
Some birds fared well showing how efforts to help them really do work. In 2016, starlings were seen in 40% of gardens - in 2017, they were seen in 50% of gardens.
Goldfinches, robins and blackbirds have also increased in number, as had pied wagtails. However, chaffinch, greenfinches and starlings are down on their 1979 numbers.
You can find more info about the 2017 RSPB Big Garden Birdwatch results here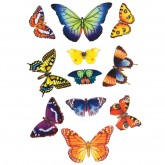 Butterfly window stickers can stop birds flying into your window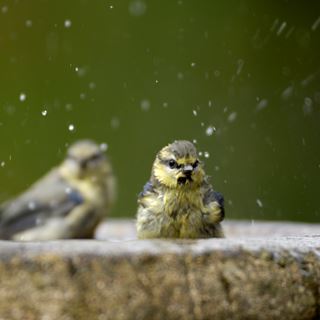 Make a bird bath for the birds in your garden