Take part in the RSPB's Big Garden Birdwatch, January 2022

Here's a date for your diary!! The RSPB's Big Garden Birdwatch 2022 #BigGardenBirdwatch
When is it?
The RSPB Big Garden Birdwatch 2022 takes place between Friday 28th January and Sunday 30th January 2022. You just need to pick one hour during that time to sit and watch the birds and wildlife in your garden or local park.


What do you need to do to take part?
Watch the birds around you for an hour – you choose the hour to do this

Count how many of each species of bird lands on your patch

Go online and tell the RSPB what you saw!



Register for the RSPB's Big Garden Birdwatch 2022 here

Who else does it?
Well, in 2022 over ONE million people took part! Hence the TV ad and video, "Be one in a million"! People all over the country are doing their bit for nature. Please join in and be one in a million! The birds and wildlife NEED you. Last year, one million people counted over 17 million birds.
Your wildlife need you!
Do you have to be an expert in bird species?
No, you don't! You can be a complete beginner or know every species on the planet. You probably already know birds like the robin and the blackbird, and this is a great chance to take a look at some of the resources the RSPB has and the more popular birds likely to appear and find out more about them. The weather is rotten at the moment, so it's a great excuse (if you need one) to put the kettle on, make yourself a warm brew of something, tuck into a treat, and lose yourself in finding out more about our feathered friends. Visit the RSPB's Bird identifier tool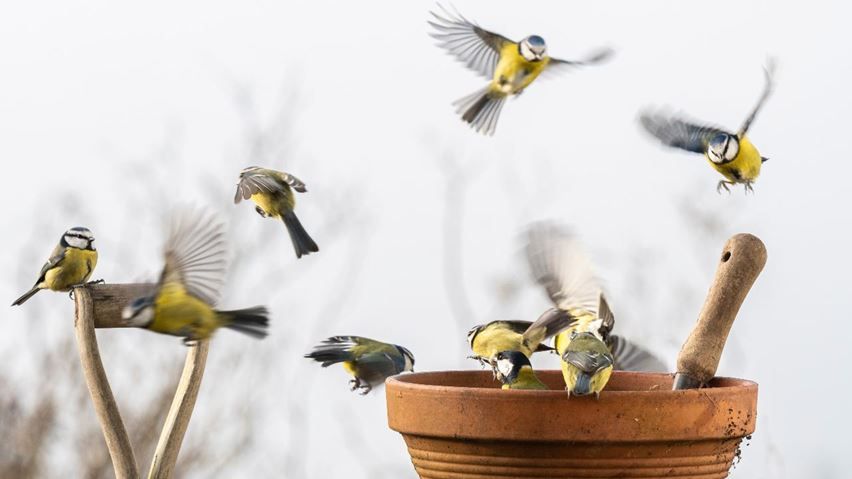 Who might you see?
What can I do to encourage our feathered friends?
Put feeders up, give them water – there are lots of ideas and tips on the RSPB's website. Even if you don't have a garden, a small window feeder can really help.
What does the RSPB need this information about birds for?
Well, it helps them identify which species are doing well and which species of bird needs some help from us. If the species needs help – for instance, if their numbers in the count are really dropping – then that sends out a signal to the RSPB that they need our help. And the RSPB can tell us how we can help that species.


Which birds were in the Top Ten in 2021?

Drum roll, please!! Here was the top ten in the results for the RSPB's Big Garden Birdwatch 2021.
House sparrow (for the 18th year running)

Blue tit

Starling

Blackbird (moving up from last year)

Woodpigeon

Robin (moving up from last year)

Great tit

Goldfinch

Magpie

Long-tailed tit
One Birdwatch regular, the greenfinch, has declined so much that it was put on the UK red list for Birds in 2021.


Can schools take part?
Good news for teachers! There is the Big Schools Birdwatch in the first half of the Easter term – a great opportunity to pick a sunny morning and get your students outside in the fresh air.
3 steps to take part for schools:
Register – the RSPB will send you a pack with everything you need to take part. The good news is that the resources are all differentiated to support curriculum learning. You can get them in Welsh, too.

Get counting! Packs include ID resources, survey sheets and everything you need to know to get your Wild Challenge award

Submit your results. What's more, you can do this with your class on the whiteboard.
Whichever birdwatch you take part in, the RSPB want to know what you see – even if you see no birds or wildlife at all. A zero result is important. Please send it in.
There are now 40 MILLION fewer birds around in the UK than there were 50 years ago. Please do what you can do help them. They need feed, water, shelter, a place to rest and nest.
Whatever is happening with the coronavirus, this is something you can do at home to help nature and wildlife survive and flourish.


The RSPB has an offer, too:
Sign-up to the RSPB Big Garden Birdwatch today and get your free guide, plus 20% off and free P&P when you make a purchase from the RSPB shop. There's no minimum spend, this is a single-use offer for 18 year olds or over. Terms and conditions apply.
All images on this page ©RSPB